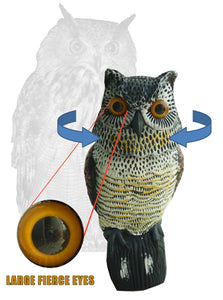 Model: EM-615

Size (Approx): H15 inches (380mm)
Weight: Approx. 0.47kg

Description: ENTA HUNTING OWL is modelled after real owls in perching position, scaring birds away from your premises.
Upon sight of this rotating head owl, pigeons, sparrows, Mynas will avoid the area and fly away.
For large premises, install more owls.
Features:
Realistic owl scare with large glassy eyes mimicing real owls in perching position.
Rotating head that swivel mimicking owl on the prowl looking for prey.

Note: Displace owl occasionally so that birds do not get use to its presence.