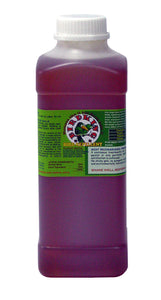 Model: EM-149K

Content: 2 sizes available. Approx. 1 & 4 Litre
Description: Mix with water and spray at designated area.
Suitable for Mynas, Pigeons and sparrows.
Features: BIRDKING EM-149K is a concentrated formulaton to be diluted with water and spray at places to control birds.
BIRDKING EM-149K formulation act as chemosensory repellents by irritating pain receptors associated with taste and smell. It is found to be a highly effective bird aversion agent.
BIRDKING EM-149K is made from naturally occurring GRAS (generally recognized as safe) listed compound used as a food flavoring and fragrance additive and thus safe to be used on food crops like wheat, rice, cabbage, onions, lettuce, maize, fruit trees like grape, apple, pears and cherries. Commercial, Institutional and Warehousing Establishments (including computer facilities, food/feed processing plants, hospitals, hotels, laboratories, motels, nursing homes, pet shops, restaurants, schools, supermarkets, warehouses and zoos), Residences and Transportation housing area like docks, bus stations, train stations.
Note: Reapplication is necessary after heavy rain.
Application Video