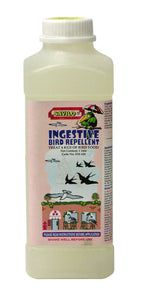 Model: EM-149

Content: Approx. 1 Litre/bot
Description: Mix with bird food.
Suitable all types of birds and especially effective for stubborn, persistent birds like Mynas and Crows which are undeterred by human presence.
Features: EM-149 is formulated not to kill birds but to cause severe stomach pain after feeding on food pre-treated with bird repellent. The birds after experiencing stomach pain quickly learned to associate food at that place with pain and will avoid it at all costs.
Recommended use in trash bins, left-over food in bin center, fruit waste, eateries and gardens.
Note: Not to be used for on food directly for human consumption.