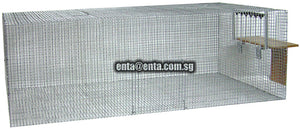 Model: EM-1023

Dimension: L915 x W465 x H405 mm (Approx.)
Weight: Approx. 4.6kg

Description: ENTA REPEATING PIGEON TRAP is designed for repeating trapping/ multiple catching of pigeons by pest control operators and/or local authorities. Each trap can contain 30 pigeons.
The repeating pigeon trap is designed for fast trapping of pigeons in urban areas in towns and cities. It combines the bob type one way opening with drop-down entrance giving you a superior and very effective trap.
Features: Constructed with strong galvanised wire mesh. Foldable pigeon landing pad for easy handling. Detachable aluminum bob for easy maintenance and let you decide on the ideal time to set the trap.

Note: Sprinkle grains around and inside the trap few days prior to setting the trap. This will lower pigeons' suspicion and more pigeons will be trapped.
Note: Actual trap may vary slightly in design as we are constantly upgrading our design to serve you better.