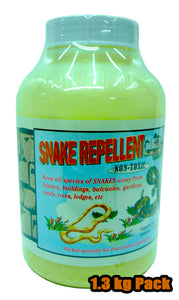 Snake powder to repel and protect against snakes.
Model: EM-173S

Weight: 1.3kg packing
Description: Snake repellent comprises of flake-form sulphur.  It is 3 times more effective and lasting than the similar powder-form repellents because of its will not easily dissolve and wash away in rain. 
Application: Sprinkle 10 to 20cm broad band onto places like edges, wire fence, crevices, grass areas to create a barrier. Suitable for camping as a protection against snakes. 
Keep out of reach of children and animal pets.
1.3kg Packing
Made In Singapore