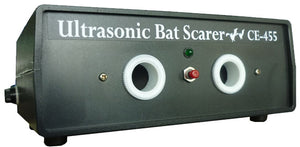 ULTRASONIC BAT SCARER (EMIT CE-455)
| | | |
| --- | --- | --- |
| SPECIFICATIONS: |   |   |
| Model | : | CE-455 |
| Power supply | : | AC 230 volts 50 Hz |
| Output | : | DC 12 volts |
| Power consumption | : | 5 watts |
| Frequency range | : | 18,000 to 65,000 Hz |
| Output sound pressure | : | 130 dB |
| Effective area per set | : | 2000m3 |
| Dimension/Weight per set | : | L200 x D150 x H85 mm/Appx. 750gm |
TARGETED PESTS
Ultrasonic Bats Scarer CE-455 is very effective in controlling Pipistrelle, Brown Long-eared, Serotine and Greater/Lesser Horseshoe Bats. 
EFFECTIVE USE
CE-455 is used to treat INDOOR enclosed area, room or a single targeted object like a stationary tree or a particular spot in the house.
It is not intended to treat an open area like a Courtyard, open garden, where the area could not be confined.
Good for - Enclosed roofs, Barns, Warehouses, Factories, Schools, Places of worship (Churches, Mosques, Temples..)
HOW IT WORKS
CE-455 emits ultrasonic waves and acts directly on the auditory and nervous systems of most common bats causing them severe pain and great discomfort. As a result, the bats vacate the premises to escape the intolerable and painful sound.
At 130 decibels of sound pressure, bats will give up their source of food, shelter, and move on. These high-intensity sound waves are out of the range of humans hearing and also most household pets.
Model: CE-455 is completely computerised device that emits high-intensity ultrasonic sound waves at the frequencies on which most common bats communicate.
ALTERNATING FREQUENCY
This device automatically alternates frequency 3~4 times in a minute, assuring complete coverage of all the communication frequencies of most common bats. Due to its alternating frequencies, bats could not develop immunity and avoid the area treated with CE-455.
DISRUPT BATS SONAR NAVIGATION

Bats use sound waves and echoes to determine where objects are in space as they navigate their territory and seek their prey by emitting of ultrasound waves. CE-455 disrupts their flight and communication by emission of disruptive ultrasound waves which means they are like flying blindfolded and often knocking onto buildings, wire poles. This affects their nervous system, their feeding and communication habits, forcing them to leave the area treated with CE-455.
ENHANCED EFFICIENCY
MULTIPLE units of CE-455 can be overlap together to increase the efficiency of bat removal. Sound waves overlap and saturate the whole area effectively "jamming" bats' natural sonar abilities to navigate and feed on prey.