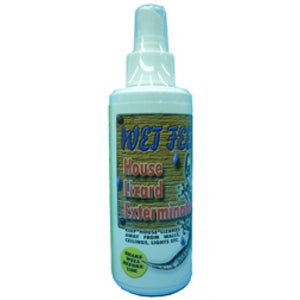 WET FEET is a specially formulated water-based material that effectively keeps house lizards away from the treated areas.
Each Bottle contains 180ml
"Wet Feet, House lizard Exterminator" is a water-based house lizard (geckos) killer. It will kill geckos if it happens to crawl into contact with surfaces treated with the solution or spray directly onto the lizard itself. It will take a few hours for the formula to take effect.
This solution affects cold-blooded animals and is harmless to human beings. 
Keep away from pet reptiles, frogs, tortoises as it will affect them. 
Please ensure the contents are well shaken before use.
Spray a broad strip about 10cm wide making sure there is no break along the treatment strip. Spray the second coating 1 hour later.
Repeat treatment every 2 weeks.
Made with natural ingredient with Lemongrass fragrance.
Made in Singapore