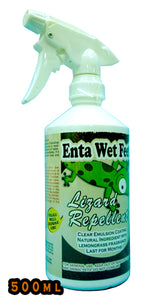 WET FEET HOUSE LIZARD REPELLENT(En-139) is a specially formulated water-based material that effectively keeps house lizards away from the treated areas.
WET FEET HOUSE LIZARD REPELLENT(EM-139)
Each Bottle contains 500ml
"Wet Feet" is a water-based house lizard (geckos) repellent. This repellent is colorless and specially formulated to keep these reptiles away. Once the toe pads of a lizard come into contact with any surfaces pre-treated with "Wet Feet". the microscopic hook-like projections (villosities) of the lizard is attacked. The lizard loses its grip and will avoid the treated area.
Please ensure the contents are well shaken before use.
Spray a broad strip about 10cm wide making sure there is no break along the treatment strip. Spray the second coating 1 hour later.
Repeat treatment every 2 to 3 months.
Made with natural ingredient with Lemongrass fragrance.
Made in Singapore