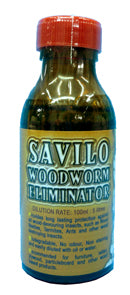 PROTECT YOUR WOOD (ROOF BEAM, RAFTERS, PARQUET FLOOR, WALLS, DOORS & FURNITURE) FROM ALL WOOD BORING INSECT & PESTS. LITTLE HASSLE, PROVEN EFFECTIVE! SUITABLE FOR WOOD ALREADY INFECTED WITH PESTS.
WOODWORM PROTECTANT
PROTECT YOUR WOOD FROM ALL PESTS. LITTLE HASSLE, PROVEN EFFECTIVE!
Provides long-lasting protection against all wood-devouring insects, such as Powder Post Beetles, Termites, Ants and other wood-destroying insects.

Biodegradable, No odor, Nonstaining and easily diluted with oil or water.

Recommended for furniture, rattan, plywood, particleboard, roof beam, joist, rafters, doors, parquet, wood flooring, and other wood-based products.
DIRECTIONS FOR USE
One bottle of the Woodworm Protectant can be diluted to 5 liters of water, aromatic kerosene, a light oil, or white spirit. It can be easily applied with a brush, sprayer, or roller.
For immovable furniture and objects, spraying the Protectant into holes, cracks & crevices in furniture can most effectively protect them. The best way is to apply from the top of the furniture/ wood so that the liquid is allowed to seep gradually through the entire wood-destroying the pests completely.
WARNING:
May irritate eyes and skins of sensitive persons. If it gets into eyes or swallowed, wash or drink plenty of water. Get medical attention immediately. If it gets onto the skin, wash with soap and plenty of water. 
Each bottle contains 100ml.
--Made in Singapore--